Windy Leigh
Born: Pittsburgh, PA Residing: Pittsburgh, PA
Pets: 2 dogs 3 ferrets
Likes: so many things to list - McDonald's McFlurries with M&M's and Hot Fudge, Roller blading and biking, walking my dogs, eating dinner in the back yard on a beautiful summers day, answering fanmail, going to the wave pool to relax.
Dislikes: When people are ignorant, Fake people, Club managers that are assholes( you know who you are), pasties, g-strings (nothing like dental flossing your ass crack all night).
Favorite cars: 1965 Mustang -Cherry Red -289 engine -3 speed tranny-black interior, or pick-up trucks
Favorite Music: At the club-Heavy Metal (Pantera, Marilyn Manson, Metalica) at home and in the car-Jazz ( Natalie Cole, David Sanborn )
Favorite Foods: Steak and veggies
Dreams and Goals: To stay alive
Motto in life: Bigger is Better
Shows I perform: Cowboy, USA, Spanish Girl, Clown, Vegas Showgirl, Latex, Cheerleader, Nurse, Genie, Sailor, 50's Show, Barbie, Race Car Driver, Disco, Zoot Suit and more!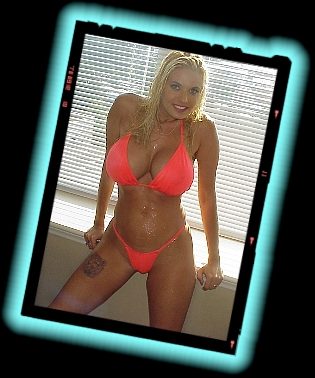 Go to Windy's PhotoClub