Patty Please
We're not in Kansas anymore, Toto. We're in Las Vegas, Nevada, and nowhere except Las Vegas could you expect to encounter someone like the excessively endowed Patty Plenty. "'I was an only child, and, I guess, I was a little spoiled," the star of Vegas World's 'So Big Burlesque" laughs. "I've been married and divorced seven times, and, right now, I'm looking for No.8." The perennially 29-year-old Wichita, Kansas native was a tap dancing and acrobatic prodigy who grew up with dreams of becoming a Hollywood movie star. In fact, Patty landed some really big roles opposite such cinematic giants as Burt Lancaster, Deborah Kerr, Art Carney and Lee Strassburg in films like "The Gypsy Moths" and "Going in Style." But somewhere down the line the Midwestern lass saw the light and Patty Plenty was born. Paying her dues as a stripper in burlesque shows around the world, Patty realized she could make more money on her own. "Now, I only take my clothes off for the big bucks," winks the coquettish Patty.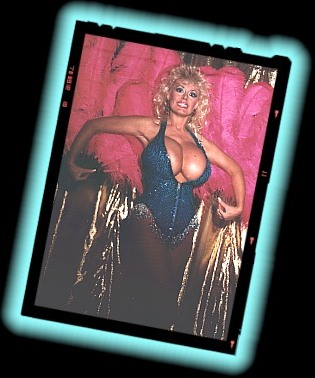 Go to Patty Please's Personal Web Page

In a serious moment, Patty explained that the secret to her success and longevity in the competitive Vegas showbiz environment-aside from a bustline that has been advertised as being anywhere from 44DD to a mind-boggling 66EEE-has been aggressive marketing. Always scurrying to keep the public abreast of her latest promotion or show Patty has managed to compile a fan list of more than 30,000 fans.
Asked how she manages to juggle a Vegas showbiz career around an adult-oriented direct mail empire and motherhood, Patty, who with tongue-in-cheek refers to herself as "Sex Symbol of the Nineties,'' credits Vegas World owner Bob Stupuk. "Say that Bob and I are bosom buddies and the breast of friends," Patty quips. ''Actually, it's a perfect situation for me because Bob only requires us to do one show a night at midnight."