Maxi Mounds
75MMM-24-36
6' Tall
Blonde Hair
Eyes: Brown
Birthday: October 25
Sign: Scorpio
Hometown: Long Island, N.Y. (I now live in Florida)
My favorite color is purple. I love animals, I have a dog named Buster, a cat named Zelda, and a snake named Medusa. My turn-ons are nice smells, eyes, and good personalities I like to laugh. My turn-offs are bad teeth, people with body odor, and rude people.
Appearances: I have been on Jenny Jones several times, Howard Stern on Easter (He painted my tits like Easter Eggs.) I have also appeared on Pay Per View, as well as the Ron & Ron show in Florida, and the Bob & Tom show in Indiana.
Video appearances: Maxi Mounds' Home Videos Series
Magazine credits: Hustler Busty Beauties, Gent, Score, Bust Out, Fox, Gallery, Cheri, Exotic Dancer, Exotic Nites, Deja Vu Showgirls.
My partner and I were crowned the 1999 USA Duo Champions. We are also 1st Runners-up in the 1999 World Duo Competition.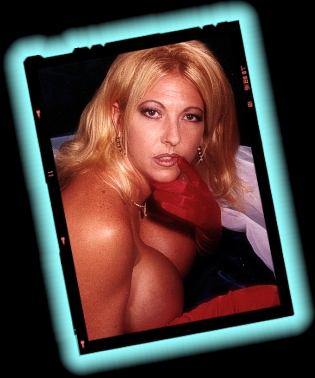 Go to Maxi Mounds' PhotoClub

I started dancing to pay my way through school, and I loved it so much that I'm still at it! I was working at a club in Florida that had features. Some of them were really good and some of them, well, you know, kind of sucked. I knew I could do better than some of the ones I'd seen, so I talked to a good friend and feature named Joey Carson who helped me get started. It has been so much fun. I have been fortunate enough to have been able to travel all over the world, and I have met lots of interesting people as well. I love my Fans, they are the people that keep me going.
Personal Quote: The only things you regret in life are the things you don't try.
Fan Club: P.O. Box 484 Englewood, Fl 34295