Kitten Natividad
I was born Francesca Natividad on February 13, 1948 in Juarez, Mexico just across the Rio Grande from El Paso. Yes Natividad is my real last name, I'm a Latin gal! Mom was just 16 when I was born, she gave birth at home with my grandma as midwife. I was the first of nine siblings although only my sister Eva Garcia shares the same parents as me.

The summer before my senior year, I worked for Stella Stevens at her home in Coldwater Canyon. I scrubbed and cleaned, Stella taught me how to cook. She would give big parties, and I would answer the door and have to wear a white uniform. I met lots of people like Warren Beatty and Linda Evans. Seeing them by the pool I thought, "this is fun I want to be a movie star".

My first love came also during the senior year, my family had always insisted on chaperons but this time they didn't so this was also my first sexual experience. We slept in separate rooms and late at night he would creep in through the window and we would make love. God, It was fabulous! When we finally did elope it didn't work out and I was back home.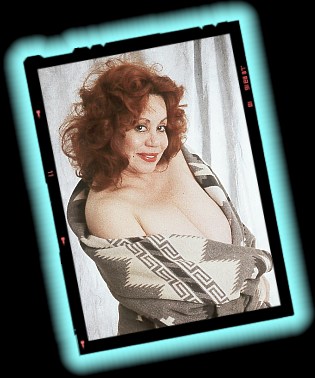 Go to Kitten's Personal Web Page

I went back to Los Angeles to work for Stella again. I was there for about a year than took a trade school course and ended up working at IBM as a key punch operator. Making very little money and looking for other options, I discovered that the sister of one of my neighbors made a living as a stripper and earned $300 a week which was twice as much as I made. I took off my clothes, looked at myself in the mirror and said "well, I have a great body", so I asked her for help and she introduced me to the club owner.

And so in 1969 I made my dancing debut at a club in Pasadena called Gianone's. I was so nervous and concentrating on what I was doing that I didn't notice any thing else. The crowd was howling and roaring and all I knew that they were throwing money and I liked it! When I finished I asked if they were clapping and they said that you could hear it two blocks away! Before long I was making $600-700 a week including tips. I went to an talent agency and auditioned all over the San Bernadino area working a couple clubs a night. The money was great and I kept busy working long hours. The agency told me that my name Frances wouldn't work and because I was very shy, way back then, they gave me the name Kitten.

As Kitten my breakthrough came in 1973 with winning the Miss Nude Universe title in San Bernadino. I was 25 but lied about my age because my agent said that the judges liked young women. I was working at a club in Pasadena called the High Light, and Morganna (the Kissing Bandit) and her agent Sparky Blain came in. Sparky thought that I had a good body and he asked me to enter the Miss Nude Universe contest. About forty five girls were in the contest, it wasn't fixed because I didn't know any of the judges and Sparky didn't talk to any of them. He had such faith in me and gave me the confidence to walk on the stage and feel like the most beautiful girl in the world. Even with all of that confidence I still went crazy when I won!

I switched permanently from go-go dancing to stripping and made a career decision to follow this road. After winning Miss Nude Universe, Sparky had me doing all sorts of publicity stunts, special appearances at clubs, college campus fraternities, other beauty contests, bikini walks and nude press conferences. All of these stunts helped to boost my career. The bikini walks were in central business districts at lunchtime with press interviews all across the country from New York to Los Angeles. And all of these events were centered around a club performance. As a headlining stripper I was the only girl on stage and it was all very new with the nudity. I would always give 100 percent to the job when a customer laid down a dollar I would go to him and gyrate as much as I could, it was hard work but this was my school to become a good stripper. I learned to give individual attention and picked up nuances from the other dancers and made them my own.
By the mid 70s I was on top of the stripping scene but my next step was at hand. I had a girlfriend named Shari Eubanks, who starred in Supervixens which was and still is one of Russ Meyer's greatest hits. Sherry and I worked at the Classic Cat on Sunset Boulevard in Hollywood and she told Russ that I would be a great Russ Meyer girl, because of my big tits. Russ was looking for a girl to narrate his new film Up! so he came down to the club, and I found him quite attractive.
I turned on the charm full tilt for Russ and got the part. His films were always tangled in story, but Up! was perhaps the weirdest film that Russ ever made. I'll skip over the plot which had something to do with Hitler's daughter and sadomasochism. The first thing that you see on screen is myself nude perched in a tree with a dubbed voice announcing that I am your guide to the story, the embodiment of the body. He was very tough on me during the shooting of my scenes, and after the endless takes I would be exhausted and sometimes in tears. When I realized that his perfectionism brought out qualities in me that I didn't know I had I gave him 100%. Through the rest of the picture they cut back to me every ten minutes so i can explain just what's going on. Russ uses all sorts of different scenes, with lots of close-ups on my breasts and other parts of my anatomy. Released in October 1976, UP! was not as successful as Supervixens.
Six months after Russ and I were working together, I left George and moved in with him. He wanted me in a more prominent role in his next film, but first he wanted me to loose my heavy accent. I have always been proud of my heritage, proud of where I came from. Russ hired dialect coach Robert Easton, who helped me get rid of the accent by learning a Southern accent. Once I got that down it was easy to overcome my accent. Russ paid him $100 an hour and we worked eight hours a day, I got very frustrated, but it all paid off.
With all this work Russ put me in the lead of his next film Beneath the Valley of the Ultravixens. At first Russ had planned to use Ann Marie, the blonde stripper who is as close to Little Annie Fanny as anyone would ever see in the flesh, who's humongous 67 bust line would be a top candidate for a Meyer Girl. But after I had tested for the sultry lead of Lola Langusta, Russ really liked my acting and couldn't find another girl who would work harder for the part or as willing to be nude all the time. Of course, Russ also had a big crush on me and we had an affair that lasted 12 years. Together, with his friend and collaborator Roger Ebert, the script was reworked for me as the lead. They worked for over 12 hours on the script so I could play both Lola and Lavonia. I think that it worked out better than the original script would have been.
Ultravixens had all the makings for a hit but the film had a hard time getting distributed across the country. Russ discovered that he would make more money on video sales than ticket sales. While Russ's films were on hold my modeling career took off. When I had been dancing in clubs there were many photographers who wanted pictures of me, at the time I thought it was good for extra money to model between sets. Little did I know that the pictures would be published and by 1977 there was an outpouring of pictorials on me. I couldnít believe I was on the cover of so many magazines! This really paid off for me at work, because wherever I did work I got more money, I could earn over $1,000 a week when other girls were only making $50 a night.

Many of the photo spreads I worked on were steamy girl/girl shoots with many associates from strip clubs and Russ's films. I did sessions with Candy Samples, Uschi Digard, Patty Plenty and many others. By the end of the 70's the level of stardom that I had achieved on the strip circuit demanded more elaborate and lavish shows. And here is where I came up with using a giant champagne glass in my act. I just got in and bathed on stage. I used Bobby Darin's hit Splish Splash and had a lot of fun with my tits on stage jiggling and caressing them. At the end of the performance I would let a couple lucky members from the audience dry me off with a towel.

After Russ I ended up in a lot of extra scenes in films, rock video's and features in adult movies. I was the stripper at Sean Penn's bachelor party in September 1985, it was at the Roxy Nightclub on the sunset strip. When Harry Dean Stanton showed up late to the bash, Penn picked up my blouse and said "See what you missed?" and shoved Stanton's face into my cleavage.

In between acting jobs and other gigs I have been running my fan club, keeping healthy and young at heart. But for now I'm not traveling or making many appearances. I think that sexuality comes from within. And I am still pursuing a career in films. Another thing on my agenda is to do a real autobiography. I'd really like to write my own life story, the real truth. I was going to wait until my parents passed on, but they're probably going to out live me! Now I don't care who reads it. I've been with men that no one would believe and had some pretty wild experiences. I think it would make quite a story.