Crystal Storm
I am an exotic featured entertainer and model, and I travel all over the world performing in clubs and theatres. My act includes dancing and modeling, comedy, and audience participation. My favorite part is after the show when I get to meet so many wonderful fans. When I was a kid, I dreamed of a career like this, and the real thing is even more fabulous than the dream.
I also model for magazines and gift shop merchandise (gift bags, key rings, greeting cards, calendars, etc). Maybe you've seen my calendar in Spencer's Gifts -- the "Double D Twins," but they're both really me! My media credits include:
Magazine centerfold and cover girl for Bust Out, D-Cup, Busty Beauties, Hustler, Gent, Cherie, Big Top, Juggs, High Society, Swank, and many more.
Appearances on nationwide TV shows such as Montel Williams, Jenny Jones, Sally Jessy, Howard Stern, Richard Bey, Jerry Springer, Carnie Wilson, 48 Hours, A Current Affair, Hard Copy and Duckman (after being turned into a 'toon!).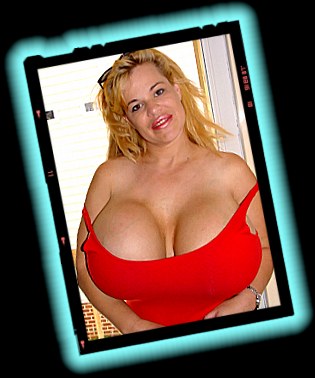 Go to Crystal's PhotoClubs.Com Site

Growing Up
I grew up in southern California. I was a shy child, but I enjoyed my dancing and gymnastics lessons and was always up for the recitals and competitions -- I guess I've always been a performer at heart.
And then my body began to develop. As I grew into my full endowment, I grew out of my shyness. I learned that what pleases me the most is pleasing you with my performance on the stage. I really hope you can see my show sometime at a club near you.
A Few of My Favorite Things
My lion, Elvis
Giving my very best performance on the stage for an enthusiastic audience
The color pink
Bigs dogs, especially Rotweilers
My annual Dream Date cruise
Meeting and talking with members of the audience after a great show
Feeding the animals at the zoo
The Internet, World Wide Web and e-mail, which is going to make it so much easier for us to become friends!